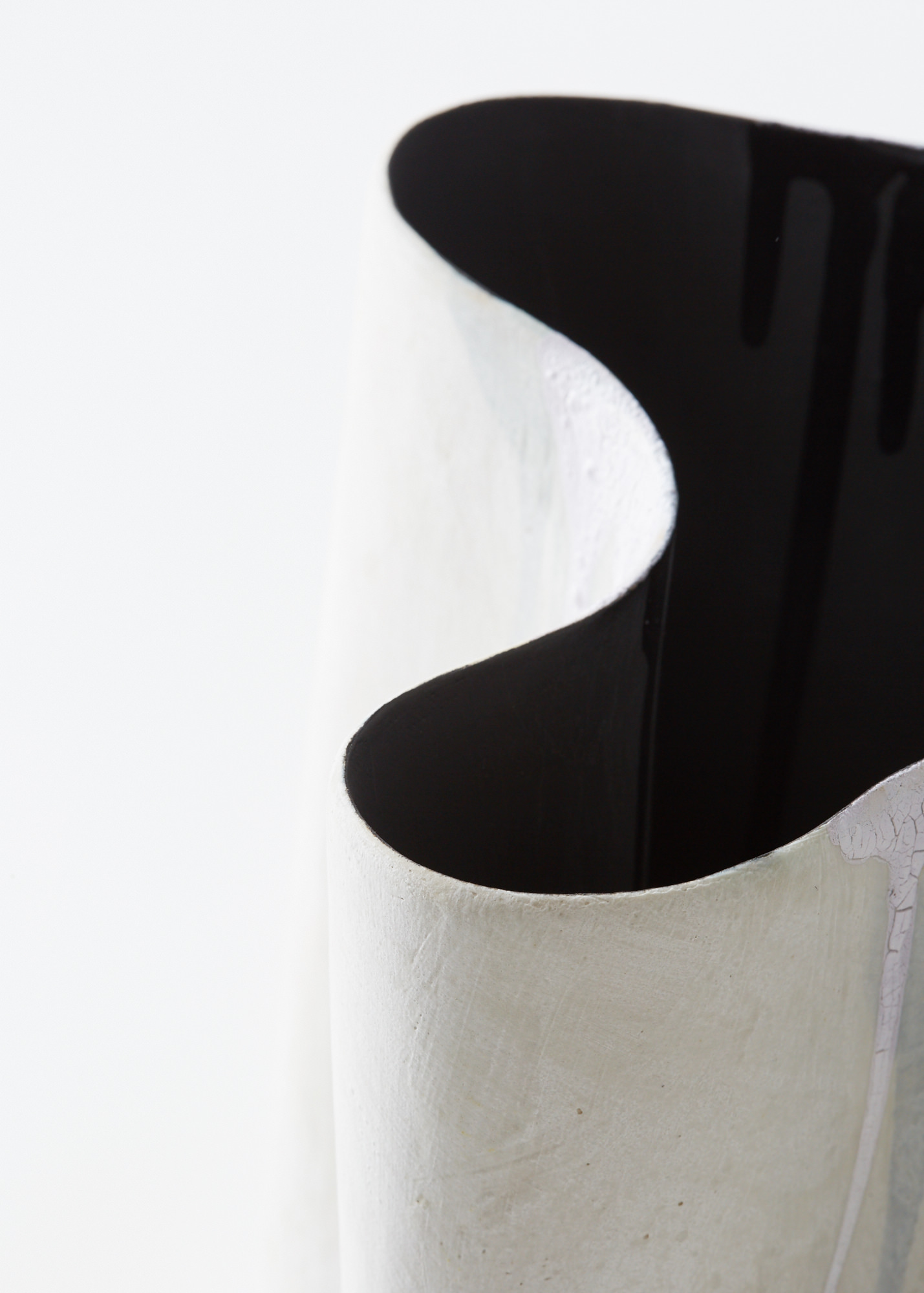 Craft in motion
Watch a showreel of our moving image work featuring Hilary's vessels. irected by Natasha Tonkin, Shot by Donna Wade. Styling Mugdha Sapte.
Your current work is inspired by your visits to Iceland. Can you tell us more about your process of translating the inspiration into ceramics?
My first visit to Iceland in the summer of 2016 was just a holiday, but once home I couldn't get the stunning, otherworldly landscape out of my head - petrified lava fields, austere horizons of black volcanic rock, snowy white peaks, steaming geothermal pools and icebergs on a glacial lagoon that create constantly shifting scenes.
I was working on another project at the time, but photos from the trip were pinned up in my studio and unexpectedly ideas emerged, seeping into my work until there came a point when I decided to change my focus completely to the strangely addictive beauty of this ancient land.
My making has always been an impressionistic response to place and experience, and Iceland's monochromatic landscape seemed a natural fit with my work.
Some pieces have become more sculptural with undulating walls and rims that mimic the outline of patches of snow in my photographs, a reflection of receding glaciers and a reference to climate change so clearly evident in the topography of the Icelandic landscape. Take a horizontal cross section of the many stunning waterfalls and careful observation sees this shape repeated.

The colour palette reflects Iceland's hues, mainly black, greys, whites, and blues. The painterly exterior and dribbled crackle glaze reference waterfalls and landscape.
You've been working in this medium for a long time. What is your most and least favourite thing about working with it?
I discovered clay at school aged 13 and took to it instantly. So despite ceramics being my second career, I've been working with it most of my life. I love the responsiveness and feel of the clay, the way a lump of earth can be transformed in manifold ways. Despite years of experience there's still a nervous excitement in the final firing when opening the kiln
Did you find the shoot prep resources helpful?
Yes, very helpful, especially the first time when you're not sure what to expect. It's really useful to have examples of other shoots and background samples so you've got a rough idea of what is possible before you arrive.
How did you hear about Yeshen's studio?

Via colleagues Instagram posts, websites and word of mouth.
Can you describe your experience of working with us in the studio?

The photo shoot was very relaxed and enjoyable, plus having stylist Mugdha there was a real asset. They were supportive, and enthusiastic about my work which gave me confidence. They understood what I wanted straight away, and they were open to ideas, for example, I wanted to create a Dutch still life feel, which they did beautifully.
What was the impact of the images on your practice? How did you use them?

The impact of the images was transformative. They hugely improved the look of my website, making it look much more professional. I used them for applications to high profile events where selection depends on the quality of the images you send. I sent them to galleries to promote exhibitions. Plus I found them useful for social media posts and plan to use them for a photo book
Was there anything you learnt during the shoot with us? Any advice to other makers preparing for a shoot?
Have a clear idea about what you want before you arrive so you don't waste time, but be prepared to be flexible too. Try something different, that presents your work in a completely new way.
How did you respond to the short films we created with your work? Did they provide anything a still image did not? Did you receive any feedback on them?

I loved the short films - no words, just background music and fairly brief in length, which is perfect. I felt that they captured the essence of my work in a way that a static image would find hard to do. I have one on the home page of my website and another as a pinned tweet on my profile page, it's also had a good response on Instagram
"Hilary's work, like so much of the ceramics we photograph, was a real pleasure to shoot. I love exploring the textures and glaze details of decorative pieces like this."
Yeshen Venema
Rust and Ice meet in the glaze.