Anne Lander is a spinner and weaver living in the small town of Mere in Wiltshire. Anne uses wool, flax and silk in her work. Anne was determined from the beginning to use natural fibres, particularly wool and flax and to use plant dyes. Her goal was to make an individual product which reflected the beauty and character of the fibre.
She has always believed in having a good understanding of every stage of the process - beginning with spinning and moving on to designing, weaving and the finishing of the final piece. This she has maintained throughout her fifty years of weaving, feeling that handspun thread is an important part of the design, enhancing the integrity of the finished piece.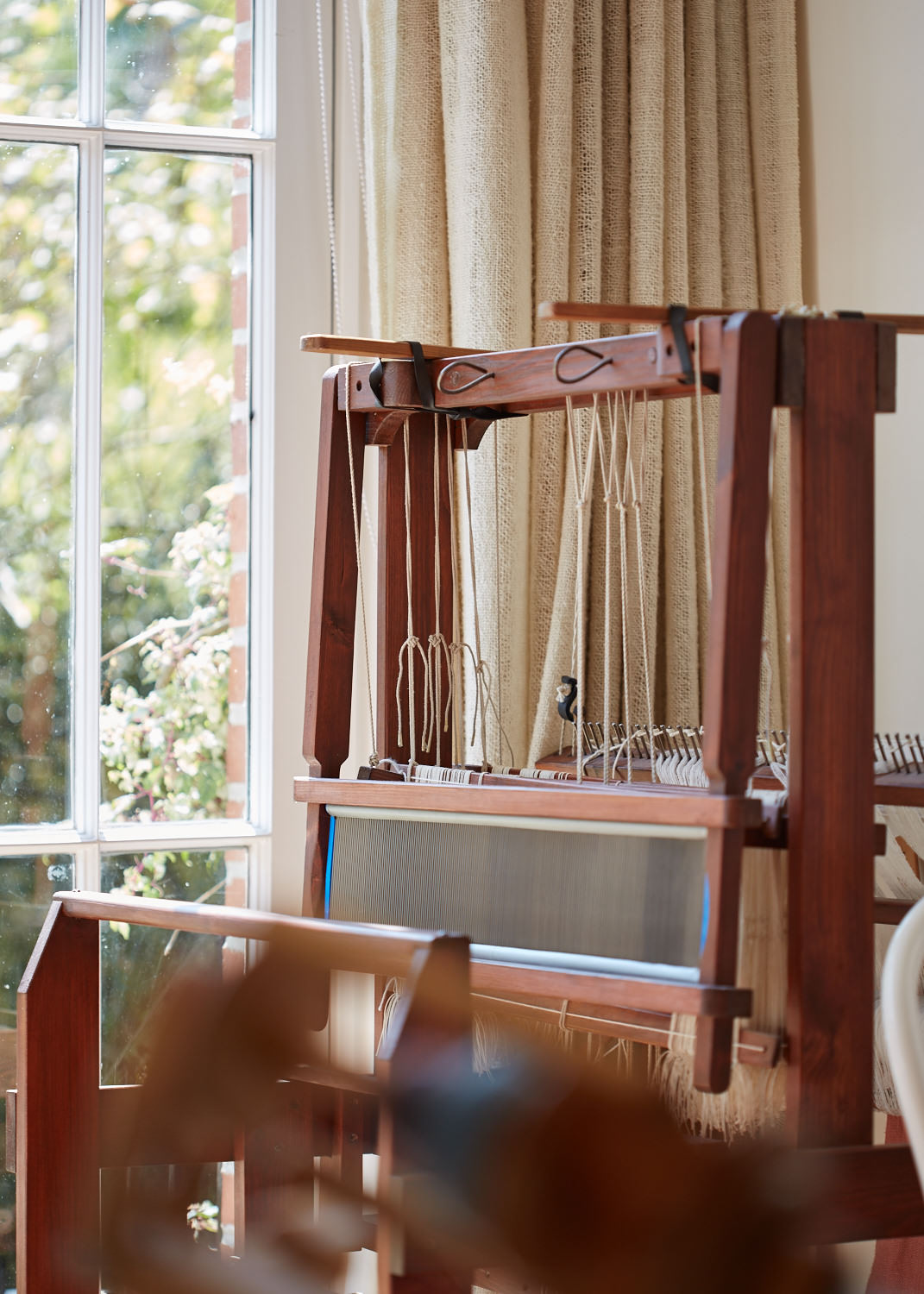 Anne used to keep her own sheep in the orchard in front of the house. She had two Suffolk Crosses, two Jacobs and two Soay. She feels it is helpful to understand the characteristics of each individual fleece.. There is a long history of flax growing, spinning and weaving in Mere and Anne has grown her own flax. She has even experimented with rearing silkworms, keeping them in her airing cupboard and feeding them on leaves from a 200 year old mulberry in her garden!
Anne has lived in Mere her whole life and her family can be traced back to 1691 . Her grandfather was a doctor and three generations of the family were all medical people. She says she was destined to follow in the family footsteps as her earliest memories are of playing 'nurses' with her grandfather..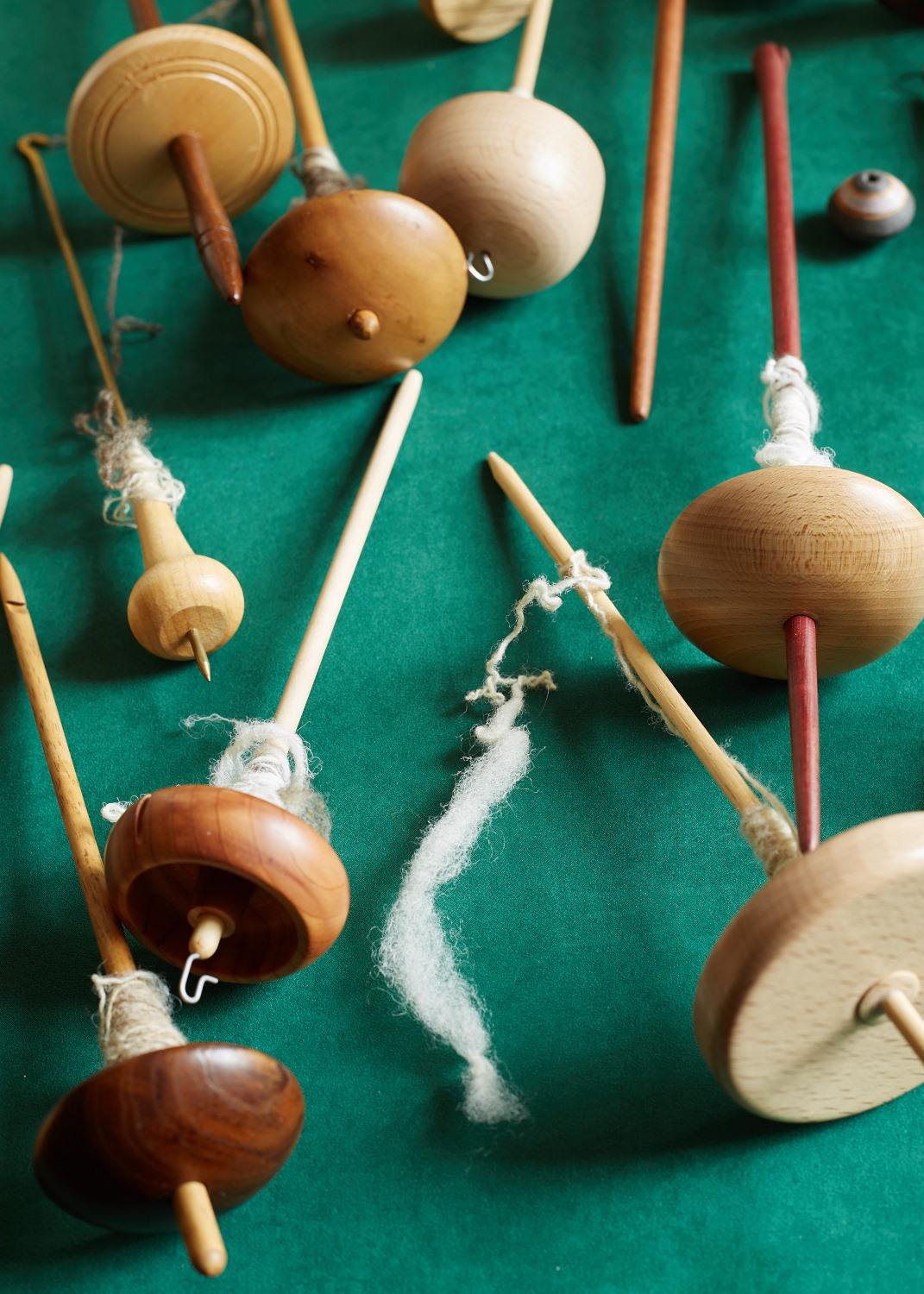 Having trained at St. Thomas's, Anne signed up for an Occupational Therapy course and it was on this course that Anne first encountered the art of weaving.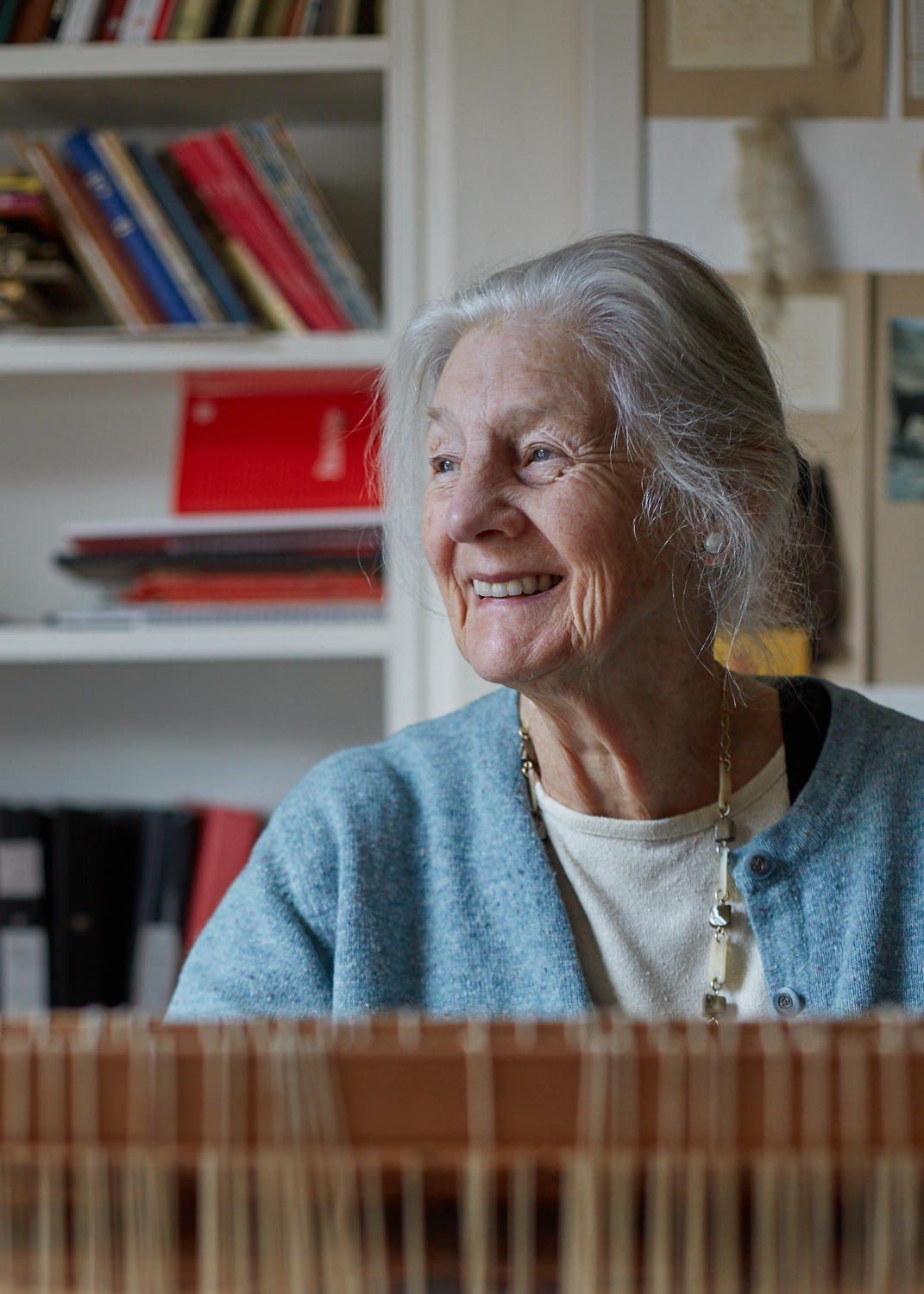 Anne began her career in 1964 and joined the Wiltshire Guild of Spinners, Weavers and Dyers. At the first meeting Anne saw a demonstration of flax spinning which made a big impression on her, she says it was "sensational to see such a beautiful spinning wheel." Naturally the purchase of her own wheel followed and she never looked back.
She was later introduced to Rita Beales and learned from her how to weave linen. A close friendship developed, with Rita giving advice and criticism along the way. Anne bought Rita's loom and after her death found that the treasured spinning wheel had been left to her.
Anne went on to teach spinning and weaving and exhibited her work at many Guilds and Colleges including Dartington, Salisbury, Bath and Bradford-on-Avon. She was also asked by the Association of Guilds to teach at their summer schools at Alsager and Roehampton.
In 1989 the Curator of the Museum, Barley Roscoe, informed Anne that the Acquisitions Committee would like to see her work and four pieces were chosen. One of the pieces was a stole in a trellis design with grey Shetland warp and brown cashmere weft – cashmere and silk being carded together for the inlay.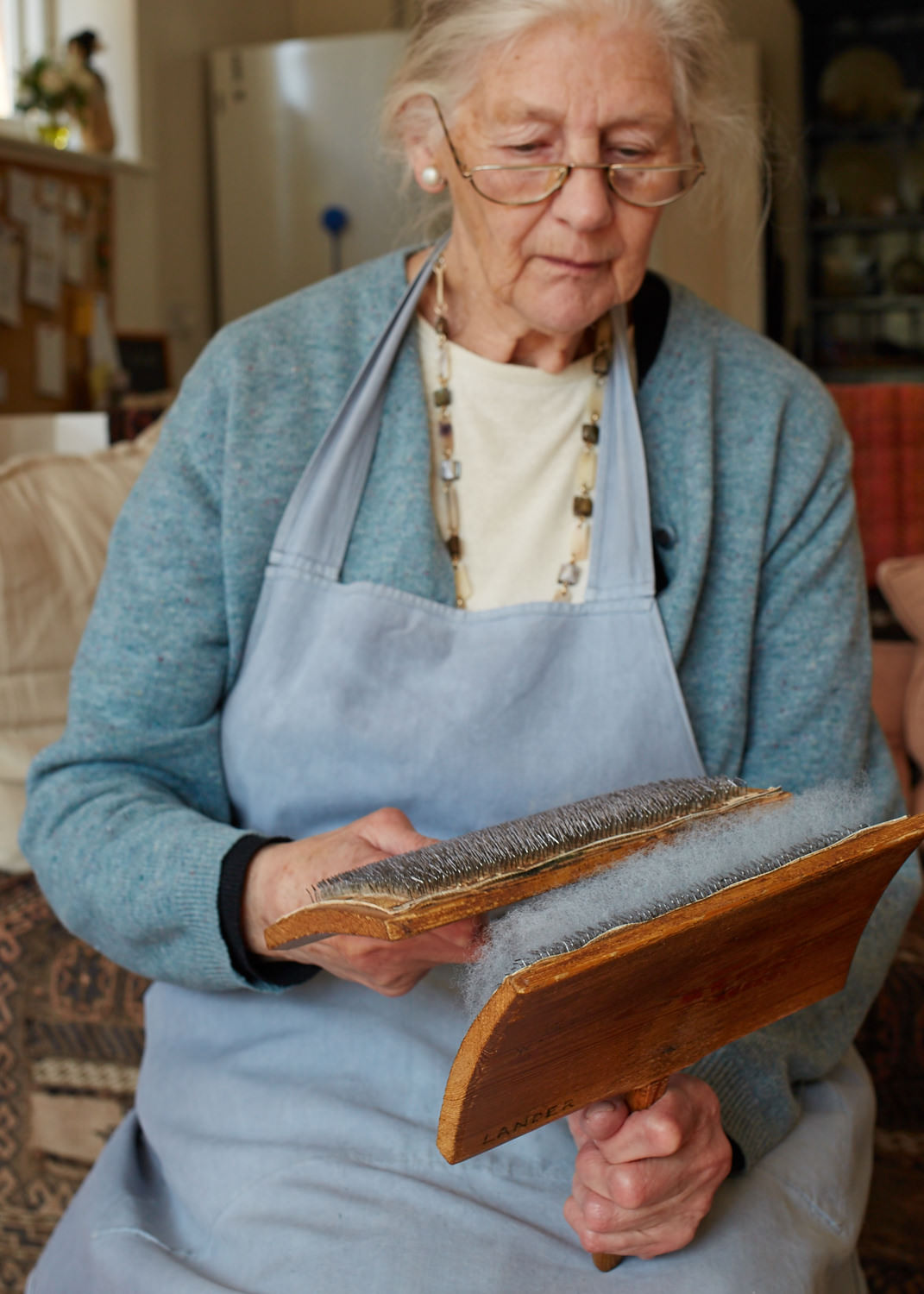 The Crafts Study Centre at the Holburne Museum was eventually closed and all the work transferred to the newly built Crafts Study Centre at Farnham.
Anne has always believed that the finished woven piece should appeal to the senses on many different levels – not only how the article looks, but how it feels and moves. It should be a pleasure to wear and, not least, practical..
Over the years, Anne has amassed many interesting artefacts and her house is a treasure trove of all things connected with spinning and weaving – fleeces dyed and undyed, spindles, bobbins and a huge loom.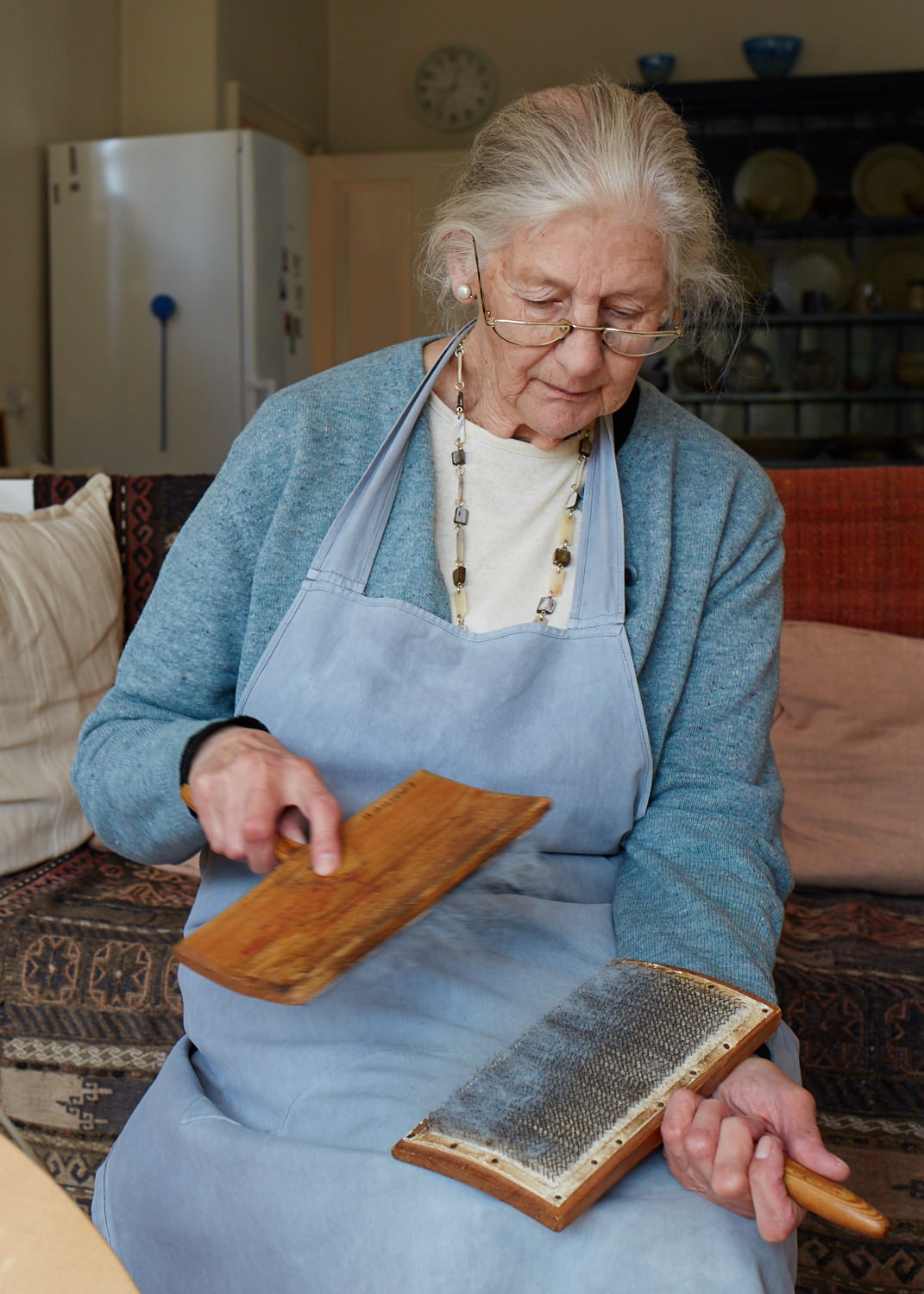 Anne is still as passionate today about her craft and gains great pleasure from teaching others such a special and ancient skill.
Hand woven Sharl
Anne's woven textiles contain fleece, cashmere and silk.
Visit the Crafts Study Centre in Farnham to see some of Anne's work in their archive.